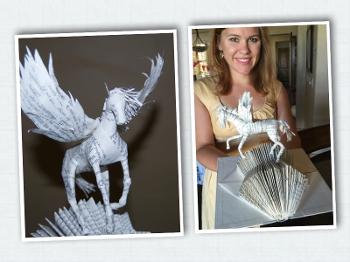 My Thousand Words book sculptures started as a way of honoring a beloved book that has been loved so much, it was a way to retell the books story by making a memorable scene from the pages of the book.
Books are created by mom Debbie, son John-Henry and daughter Rachael started to take books slated for the trash and began repurposing them and making them into art. The name "My Thousand Words" as a spin off of the tag line "A Picture is worth a thousand words" and it was then in 2015 that My Thousand Words was born!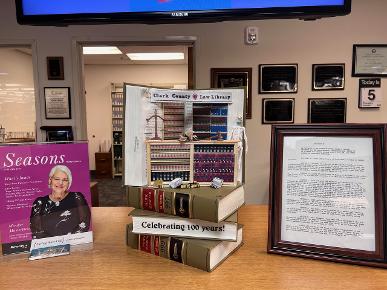 Clark County Celebrates their 100th anniversary on January 5th, 2023 Beautiful sculpture made from a collection of law books reflecting the library itself, filled with small books on shelves that actually can be read! A full size skeleton and other items like a scale of justice and more are included in this special sculpture! It was a very special project to work on for such a special celebration!